Laura is a multi instrumentalist (flute, piano, accordion, vocals) who has had a love of folk music for as long as she can remember. Her main instrument is flute and she studied Music at Sussex University, including a performance module at The Guildhall School of Music and Drama. After working as a teacher for 10 years, she left full time teaching to pursue music in a more serious way. She has played with Cornish Alt/Folk band The Grenaways for 8 years, and in 2016 joined the band Kesson, the brainchild of Cornish composer Kyt Le Nen Davey. A keen composer, she has contributed many songs to The Grenaways catalogue and now enjoys writing tunes and songs with her fellow bandmates in The Rowan Tree.
Neal has spent a lifetime making music in many different genres, but the constant has been folk music in its many forms. He moved from Yorkshire to Cornwall in 2016 and quickly became involved in the vibrant music scene around Wadebridge and currently is involved in the new jazz/blues quartet, Melange, indie folk-rock group, The Grenaways, and leading a regular community singing group as well as playing with The Rowan Tree. He plays various types of bass (upright, electric, acoustic) and whistles of many different sizes. Never a purist, he sees excitement and opportunity when music finds itself able to merge from one genre to another creating a new fusion.
Richard is a singer and musician with a fierce pride for the traditions, history and culture of his native Cornwall. Richard is passionate about bringing to life the amazing stories of people and events that have shaped the Cornish identity and make Cornwall such a special place to call home.
Richard Currently performs with a far reaching and eclectic range of musicians, currently performing with The Grenaways, Didjan, Leski, Steve Hunt as a solo artist and of course with The Rowan Tree!
Richard recorded an album 'Dig Where You Stand' which explores the music associated with the many Cornish industries and this album saw him collaborate with Camborne Youth Band to forge a new connection with Cornwall's great Brass and Folk traditions. This relationship was recently rekindled in a ground breaking collaboration with Camborne Town Band for this year's Lowender Peran Festival at Newquay.
Richard studied for a BMUS on the Newcastle Based Folk Music Degree before going on to train as a Music Therapist.
Richard recently joined Cousin Jacks Theatre for a sell out run of the Mousehole Cat which was performed throughout December 2017 down in Mousehole itself.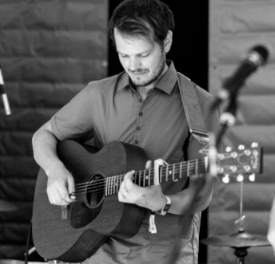 Tom began his musical career learning drums as a child, but after a brief dalliance with the trumpet, in his teenage years he picked up a guitar and has never looked back.
An exceptional guitarist, he plays with a unique folk style and yet can play with different groups of musicians in any genre.
Tom formed his first band with friends whilst still at school and since has played in many groups and duos around the Norwich area . Over the past 8 years Tom has made regular trips down the A303 to play with The Grenaways as lead guitarist, bassist and currently as their drummer.
In The Rowan Tree Tom brings not only his talent as an instrumentalist but also his skills as composer and arranger and has recorded, mixed and produced The Rowan Tree's recent EP.